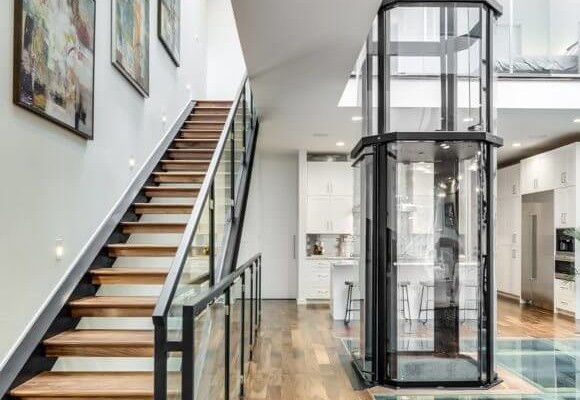 Shaftless elevators are generally built for residential settings. They have a compact size, and the design is such that they occupy minimal space in your house. The installation is straightforward and doesn't cause too much disruption. Also, they are an excellent substitute for traditional full-size elevators or stairlifts. 
These elevators are known for their convenience and mobility. They are available in full-size models to accommodate mobility devices like wheelchairs and walkers too. These installations are a cost-effective choice for two-storey homes as the installation is quick and affordable. We at Innovative Lift Consultants provide these installations and offer various models of these systems as well. 
Facts about Shaftless Elevators
Here is some more information that will help you understand a little more about shaftless elevators:
Shaftless elevators have simple designs and are perfect for residential properties. Sensors are added to the outer side of the lift, and the control panel has "push and hold" buttons.
The elevators have either a winding drum/hydraulic drive for the upward or downward movement of the cab.
These elevators have a compact footprint and can be accommodated in even tight spaces. Their creative design means they can be installed in almost any area in your home. 
The other plus point is that these features don't need any additional space (like a machine room) for the equipment.  
Their design is such that it allows for partial enclosure. This aspect can be helpful when you want to install them into floors with existing walls. For instance, an elevator fitted into a closet or pantry can be transformed into a semi-hoist. 
The installations also have a guide rail system that the cab travels on.
Shaftless elevators are available in a range of specifications, styles and designs. But the most popular models are the ones attached directly to the wall, and this helps to support the elevator.
Shaftless Elevators - The Benefits
If you're considering installing one of these elevators on your residential property, here are some benefits to make a note of:
As mentioned, the compact size is a significant benefit, so they are suitable even for small spaces.
While the cab is small, they are ideal for people using wheelchairs or other mobility devices.
Their installation can be easily incorporated in a house with an open floor plan.
Since no machine room is required, and because the system has a self-contained hoist, it significantly reduces the costs and installation time.
These features are perfect for multi-storey structures. They are ideal for carrying the laundry from a lower level or basement to the upper floors. You can also take dishes and other items down to the kitchen etc. All-in-all, everything becomes much more comfortable.
Physically disabled people and the elderly find it a very convenient way to move between different floors in their house safely and quickly.  
Some other types of elevators have similar benefits. However, the compact size, low installation and maintenance costs and ease of upkeep make shaftless elevators a far better option than other types of lifts.  
For any more information about standard elevator etiquette and any of our services, feel free to contact Innovative Lift Consulting at 0417 784 245 or Contact Us through this form. One of our team members will get back to you as soon as possible to discuss your requirements.