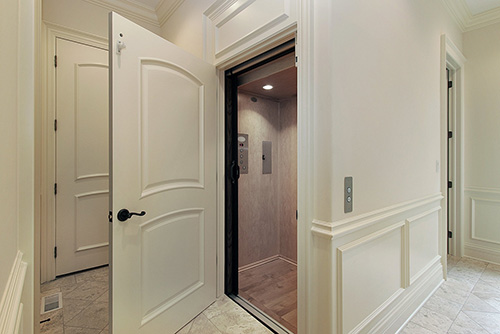 A Tertiary Institution like Griffith University exists to push the envelope in terms of design and engineering, and so does Innovative Lift Consulting (ILC, formerly known as International Lift Consultants). As the Professional Vertical Transportation Engineering Service Providers for all the major Queensland Universities, they were responsible for the design, engineering, tendering, project management and certification of the six
new lifts
and two new escalators installed in the new Griffith University Health Centre.
The design involved complex traffic algorithms, to ensure the lifts would meet the movement requirements of clinic users, staff and students to clinical spaces, classrooms, lectures, large auditoria, theatres and laboratories.
The lifts ILC designed for the project include a goods lift with a capacity of 3000kg/40 persons, a 2000kg/26 person internal passenger/goods lift, a dedicated public/disabled Main Entry lift with 26-person capacity, and a Group of three centrally located 26-person capacity
lifts providing
the Primary Circulation for the public, staff and students. All were manufactured to ILC's specifications by International Firm Kone Elevators (Kone), and incorporate Kone's highly energy efficient, MX Gearless Machine Room-less Traction Drives.
"All the equipment is the latest technology, highly energy efficient and with low power consumption, delivering the optimum in 'green' footprints" explained ILC Principal, Bryan Fulcher.
"Other features of these
lifts include
smooth and quiet riding characteristics, accurate floor levelling, efficient linear door operation, invisible 3D light ray door protection systems, LED lighting including LED illuminated lift buttons, indicators and screens. All
6 Lifts
have full DDA compliance, full stretcher capacity, hands-free automatically connecting emergency lift car telephones, and UPS battery emergency passenger release systems in event of a power failure."
ILC also designed, specified and project managed the manufacture and installation of two semi-weather exposed escalators between levels three and four, which each have a maximum capacity of 9000 persons an hour, moving them at .5m/second. These 30 degree incline escalators feature 1000mm step width, are automatic reversible and have mullionless clear glass balustrades.
ILC Principal, Bryan Fulcher, has more than 34 years of Vertical Transportation Engineering Experience, and holds qualifications including mechanical engineering, business management, data processing, Quality Assurance auditing, and Project Management.
Under his direction, ILC have completed a vast number of projects for Queensland Universities including Griffith, QUT, USQ, Southern Cross, Bond, Sunshine Coast and UQ, and also a wide range of commercial projects across Australia and internationally. Their expertise is highly sought-after by clients seeking engineered vertical transportation systems which will deliver optimum standards of operational excellence, energy-efficiency, and end-user safety.